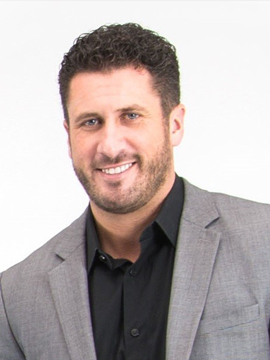 Nickolas Cardinale
Board Member
As Executive Vice President/General Manager at Barrett-Jackson, Nickolas (Nick) Cardinale helps oversee all aspects of The World's Greatest Collector Car Auctions®. He joined the team in 2013. From staffing to sponsorship, site management to sales, Nick draws from his superb professional sports and entertainment experience and his personal passion for collector cars to help execute the shared vision of Barrett-Jackson's executive team. Nick helps oversee the all of the company's day-to-day operations. With his key guidance, Barrett-Jackson has seen record numbers in ancillary growth in areas such as gate attendance/revenue, sponsorship/licensing revenue, merchandise, and food and beverage sales. Nick has taken also taken the reigns of the Barrett-Jackson VIP Experience program, adding Barrett-Jackson to QuintEvent's premier bucket-list events, such as the Super Bowl, Formula One racing and the Kentucky Derby.
Prior to joining Barrett-Jackson, Nick was the General Manager for Harlem Globetrotters International, Inc., the most recognized sports and entertainment franchise in the world. During his 10-year tenure with the Globetrotters, his direction and leadership helped the franchise record its 10 most financially successful years, with nine of those years accruing double-digit annual percentage growth. In addition, the Globetrotters reached top quartile Q-ratings under Nick's leadership. These successes were particularly remarkable given Nick was named GM at just 25 years old – the youngest general manager in the company's historic 92-year history.
Nick gained additional special event and entertainment experience as the Director of Sports Operations for the Grand Canyon State Games, which earned the distinction of being the largest amateur sporting event in the nation during his tenure. Nick was an integral part of creating the Lori Piestewa National Native American Games, the first-ever competition of its kind in the country.
Nick was also named a member of the Phoenix Business Journal's 40 Under 40 – Class of 2017, an honor that recognizes the Valley's best and brightest of a new generation of leaders making a difference in the community. Along with some of the nation's top executives in the sports and entertainment industry, Nick sits on the Advisory Board of San Francisco Venture Community Sports. He also serves as an executive board member for Arizona Cardinals' player Patrick Peterson's Foundation for Success. Nick's awards and accolades extend beyond his professional realm. While growing up in Monterey, CA, he was a standout three-sport athlete, winning both league and section titles along with MVP and All-Conference awards. He earned the Extended Service Award at the Church of the Good Shepherd and Volunteer of the Year for his work with the Grand Canyon State Games.
Nick earned a bachelor's degree in economics from the University of California, Los Angeles (UCLA) and an MBA from Arizona State University's W.P. Carey School of Business with an emphasis in international business.